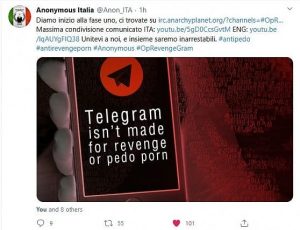 Anonymous against revengeporn and child pornography. "We are coming to get you"
Hundreds of Telegram accounts take revenge for badly ended loves by disparaging former partners, in many cases reselling their intimate photos. Between Nazis and serial harassers, hacker activists decided to disclose their names and cities of origin
di Arturo Di Corinto per MEDIUM del 12 Aprile 2020
Anonymous launched #RevengeGram, an operation "to clean the web of perverts and sexual harassers". After the news of the Telegram channels full of child pornography images used to blackmail young women, hacker activists decided to report who is hiding behind these actions. So, with a doxxing operation that has few precedents, they identified the IP addresses (ie the "footprint" of the computers on the network), the names, mailboxes and personal archives of the harassers and disclosed them online. Those responsible for the "revenge porn", the revenge of disappointed and vindictive lovers who deliver to strangers the intimate photos of the partners with whom they broke up, are mostly from Lombardy, but there are Lazio and Neapolitans and then Molfetta, Sulmona, Pinerolo , Taranto. In short, they come from all over Italy.
But this is only the beginning. The hackers of Anonymous and LulzSec Italia say that they will not give him respite and with a video they invite everyone to provide information to stop them. "On Telegram there are groups, people, channels and bots that share child pornography, publishing content that seriously jeopardizes minors and their families. There are all those contents defined as revenge porn that publicly put people, for the most part women, into public pillory. and girls, who shared their intimate photos trusting the recipient. For this reason we decided to launch the OpRevengeGram operation with the aim of fighting these infamous criminals who, hiding behind the anonymity of the internet, scoff at the company, not caring about the possible consequences that their actions have on the victims ".
So they identified those responsible first of all on Telegram channels that praise rape and in which up to 50 thousand people participate, even if there has been a general stampede since this morning so as not to be associated with the news. By doing research among the users of those channels, the hackers traced the name and surname of the child pornographers and serial harassers.
One of them, L.S., was discovered with an entire hard drive of hundreds of photos of girls and boys in the cloud. From our previous investigations, published for La Repubblica , it appears that many have been around for a long time, even if the date of creation of the folders on Google Drive dates back to recent times. But the folders dated 15 May 2016 contain photos with the names and surnames of very young women in provocative poses. Agata G. appears in her teenage room while posing half-naked, Chiara M. in the bathroom in front of the mirror, others are mature women who show themselves in erotic photos. It's not always about sexually explicit photos. Indeed, many appear as innocent photographs taken by the sea in company, in bikinis. The folders, however, have names that cannot be misunderstood: "Degradodoland", "Miss B side", "I didn't know you were a minor", and one of these is full of videos with sexual intercourse between teenagers and mature men.
To give a name to the collections including the photos, the authors used religious references, for example to the Bible, declined to the future (Bible 3.0, 4.0. 5.0, 6.0). There was also a site that contained them all made on webnote, a service for creating free websites: but it was disconnected a few minutes after being reported in the Anonymous IRC discussion channel. But they have had time to identify the authors with a nickname on Twitter. One of these is an IT expert who presents himself in the biography as a "full stack developer".
In Telegram groups there are several profiles that praise Nazism, gender violence and animal sex. Many of the images later found in Google Drive are on sale for a fee. So Anonymous tracked down the Paypal accounts through which these images are paid. And it is a rather thriving trade, apparently.
The Italian Anonymous crews invite all users to participate well in the "hunt" and conclude: "Show us that we are not alone in this fight. Join us, and together we will be unstoppable. United by a common ideal we will be able to put an end to these crimes ignoble against victims who do not even have the ability to defend themselves. And as for you hidden in the shadows, who shield yourself as a monitor and feel safe protected from anonymity, we are coming to get you! "
It is not the first time that Anonymous has launched a "vigilantism" action, as they say in jargon, replacing the police authorities. The most famous case is that of the destruction in 2011 of Lolita City, a set of Dark Web sites dedicated to pedophilia by disclosing personal information of the 1589 users of the "pedophile paradise".
NOTE: The article was originally published for La Repubblica, April 10th, 2020: https://www.repubblica.it/tecnologia/sicurezza/2020/04/10/news/anonymous_contro_revenge_porn_e_pedopornografia_stiamo_venendo_a_prendervi_-253630259/